Spend Time With Me
» by Angie on October 11, 2017 • General
I just got back from running.  Yep, running.  I know I mentioned in an earlier post that we are training for a half marathon but I don't know if I ever mentioned that I was the person who would NEVER run.  I tried a few 5K races when Laila was going to CLC and we did it to raise money for the school.  Just run they said.  You'll end up liking it they said.  I did not.
On our first time back at church after Laila's death I walked in and saw that we had a guest speaker and I rolled my eyes.  Yep, just being honest.  We had a speaker from World Vision and I just knew he was going to try to get everyone to sign up for the marathon again this year.  I didn't want to sit and listen to someone tell me to do something that I had no heart for and no interest in.  Well, he was an amazing speaker who did speak about running but also had deep, meaningful lessons through his message and amazing miraculous stories about things God had done during his run.  I apologized to God for rolling my eyes and thinking that I had nothing to learn from this man that day.  And then it happened.  The whisper.  The Holy Spirit. "This is a way we could spend time alone together to heal."  I said, "no thanks."  He said it again  I said, "no thanks."
Well he roped Emma in hook, line and sinker! You tell her she can help kids, you've pretty much got her no matter what it is.   Jack and Emma signed up that day and looked at me and I said "no way!"  And I kept that still small voice to myself for several days.  I bargained with God many, many things for Him not to call me to do this.  I first tried to tell Him I would have a netflix marathon instead.  Hey, I thought maybe it was just some kind of marathon he wanted.  This didn't work.  I promised to set a timer and sit in my living room for an hour every morning in prayer time.  This didn't work either.  I promised to dedicate every car ride to him with no radio or phone calls or anything.  No go.  So I finally gave up and said I would sign up for the half marathon but that I wouldn't run, I would speed walk.  Am I not just like a bratty child who wants it my own way?!?!
We started training and I finally realized why He called me to this.  Running is the only way I can think that I am completely alone with God without distraction.  There's no laundry to switch or toilets to clean or counters to wipe real quick.  There's no traffic or other things to focus in the car.  There is a phone but I can't answer it because I can't breathe and no one would be able to understand me anyway.  This time training was just what I needed.  I speed walked for a month or so and then just started running one night trying to keep up with Emma because it was getting dark and I realized I could do it!
I decided to share with our running team the reason why I was running, to heal after Laila's death.  Some of them I knew and some I didn't, but I wanted them to understand that when they see the crazy lady hyperventilating on the side of the road in tears they would know why.
I went to my first Saturday morning group run and then a huge reminder was brought to me.  Our team captain reminded me of why she brought the idea of running for World Vision to our church.  When Laila was in the hospital for her long stay in 2016 she had contacted me to ask if there was a way she could raise money for us by using the skill of running that God had gifted her with.  She wanted to run a marathon and felt like God was calling her to something more than just run it for herself and Laila's life and situation had inspired her.  I pointed her in the direction of another family who I felt needed the money more than we did and she dedicated her run to them that year.  Well during that experience she found out about World Vision and was challenged by one of her daughters to become an advocate for them and put together a team to run for them the following year.  I had TOTALLY forgotten about that.  It was so amazing that morning to realize that I was actually running and part of something that Laila was a part of.  God had brought that full circle.
I've spent hours and hours and a couple hundred miles in prayer over the last few months.  It has been amazing.  I have had strength and endurance and peace that could not come from me but only from my amazing Lord.  I have cried many, many tears on the side of the road but you know what, God met me there each and every time.  He has reignited my passion for missions that has always been there but was all focused on the mission of keeping Laila alive for so many years.  Tonight as I got five miles done in the rain I just couldn't help but think of all those kids we are running for and the fact that they would give anything to be drinking even out of the puddles on the road that I am avoiding.  So crazy to think how blessed we are.  I'm grateful for each stage of life God has put me in.  Even this sorrow because as I stated before, I've never been more broken but never been closer to Him.
If you see this sight of a broken, crying woman on the side of the road just smile and wave and pray for me

Or snap a picture then hug me like this friend did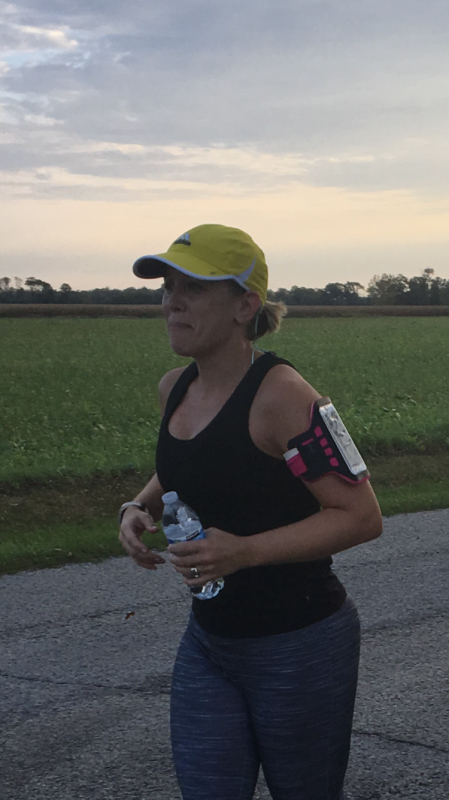 God is continually calling me out of my comfort zone.  I don't know why I fight Him so much because when I finally give in I am always blessed and wonder why I didn't listen to Him sooner.  Is there anything God is calling you to today?  Are you acting like a child like I usually do and bargaining or just flat saying no to Him?  Please don't.  Blessings are waiting for each of us if we can just trust Him.  If there is a way I can pray for you specifically in something He is calling you to, please shoot me a private message and I would love to pray for you during my run time.
If you would like to help Emma reach her goal and would like to donate to the her World Vision page, you can do so by clicking here.
Thanks for listening, friends.  I so appreciate you and each comment of encouragement.  I'm blessed.