Laila Smiles 2018 winner is…..
» by Angie on June 1, 2018 • General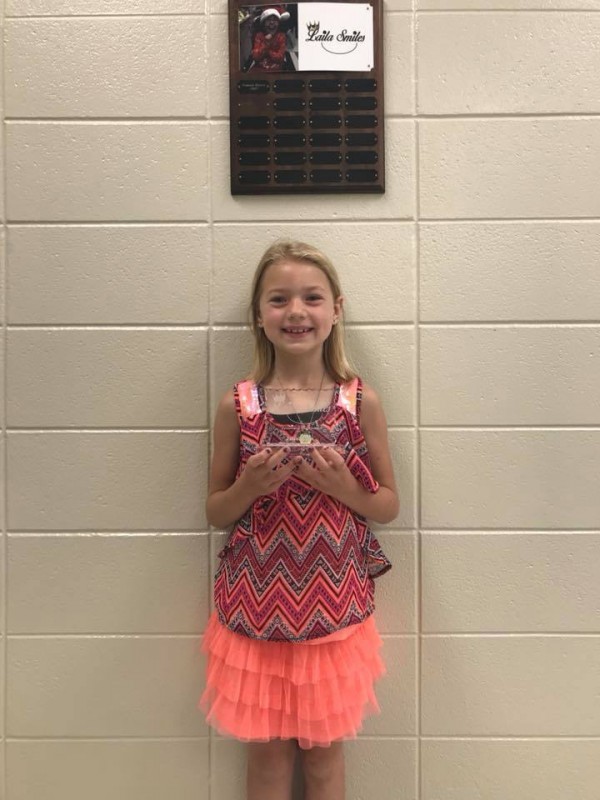 Julanna Fox!!! We are so grateful to have this special scholarship and award in memory of our precious Laila. We love that Laila's legacy continues to challenge kids to love school and spread joy and smiles throughout Wheatfield Elementary.
For those that don't know, each second grade teacher nominates a student with these qualities and then every staff member in the school casts their vote. The recipient receives a trophy, their name on a perpetual plaque and the scholarship fund pays their book rental for their third grade year. This gives our family the opportunity to usher a second grader into third grade and pray for them throughout their third grade year since Laila didn't get to make it that far.
We are privileged and honored to have Julanna receive this award with her sweet, gentle smile. One fun fact that no one in the school knew…. Julanna is Laila's cousin. This made it extra special for her mom and I this morning as we watched her receive the award together.
Congratulations Julanna and way to go Danielle and Steve for raising an amazing, kind, joyful daughter! Our prayers will be with you this next school year!
A HUGE thank you to all who donated to the scholarship fund last year to make this possible.