The Faces of Week One
» by Angie on July 14, 2018 • General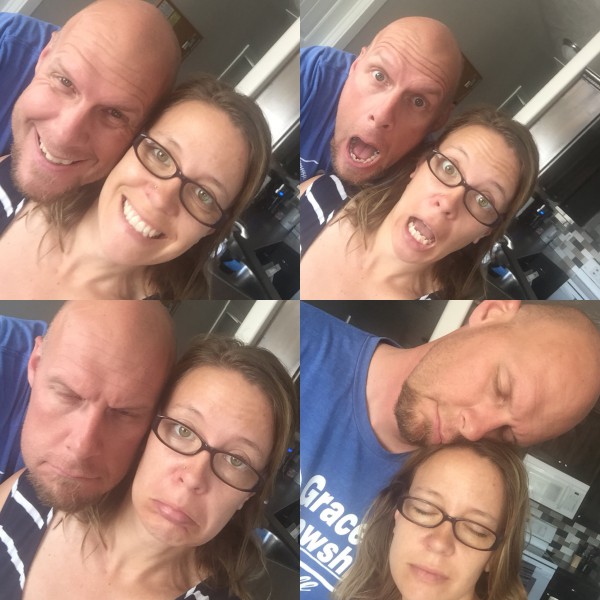 So those unedited photos were totally staged this morning….. in our pajamas… at 11am.
My brain hurts.  We have taken in so much information this week.  We're pretty much feeling every emotion possible.
We are so happy and excited because we know for sure this is what God is calling us to do and we just can't believe God trusts us enough to join this amazing ministry and the amazing work He is doing in it.  We have done a lot of learning about MAF's mission statement and vision and we are so on board.  My heart swells just thinking about how their vision lines up with ours.  I find myself nodding in agreement all day.
We are so scared.  This is a lot.  Just thinking and seeing that this is real.  We are really gonna move to another country.  We are really putting ourselves out there in this huge spiritual battle field.  We are really gonna do this.  Really….
We are sad.  We miss our friends and family already.  I missed my nieces wedding yesterday.  The kids miss their friends.  I miss my familiar kitchen utensils.  And this is just the beginning…..
We are exhausted.  Especially me.  I am not used to "working" 8-5 every day and trying to keep a house clean and cook and take care of the kids and get time in with God.  We are trying to be so present in our training and soak up all this knowledge. By the time we get back to the apartment I wanna crash.  I've been getting up extra early for devotion, worship and prayer time and then try to throw something in the crock pot or I've also done a few big cooking nights and getting a bunch of meat cooked up so dinners are quicker in the evening.
We are thankful.  We are so thankful for the opportunity to do this and for all of the people we have met.  There were some circumstances that happened yesterday that really affected some of our classmates.  Member care talked with us and we banded together as an MAF family and our apartment was filled with people who all brought whatever food they had and we together created a big meal that we then delivered to our classmates who were hurting and then sat back at our table for a time of friendship.  It felt good.  It felt good to be a part of the body of believers here and to love on and support each other.
We are curious.  We are very curious to find our for sure which country we will be based in.  We think we might know but we won't find out for sure until our final meeting as candidates on Tuesday afternoon.  The kids sat in with us when all the regional directors presented their ministries and the kids definitely know where they want to go.  I'm really grateful they are old enough to give us their input and that God gave us the insight to let them be such a big part of this process and decision.
Lastly I just wanted to list some of the classes we have been taking in case someone was interested in that.
Faithfulness, Personal Call to Missions, Chapel Planning, Structure & Philosophy of Ministry, Playing with Fire, Business as Mission, D.I.S.C. Assessment, Online Resources and Training, Immunizations and Diseases, Social Media: Blessing or Curse, as well as each regional director's presentation from all MAF programs and meetings with our candidate committee and member care.  Phew!  I'm tired.
I might go take a nap