Indonesia Q&A Part One
» by Angie on July 21, 2018 • General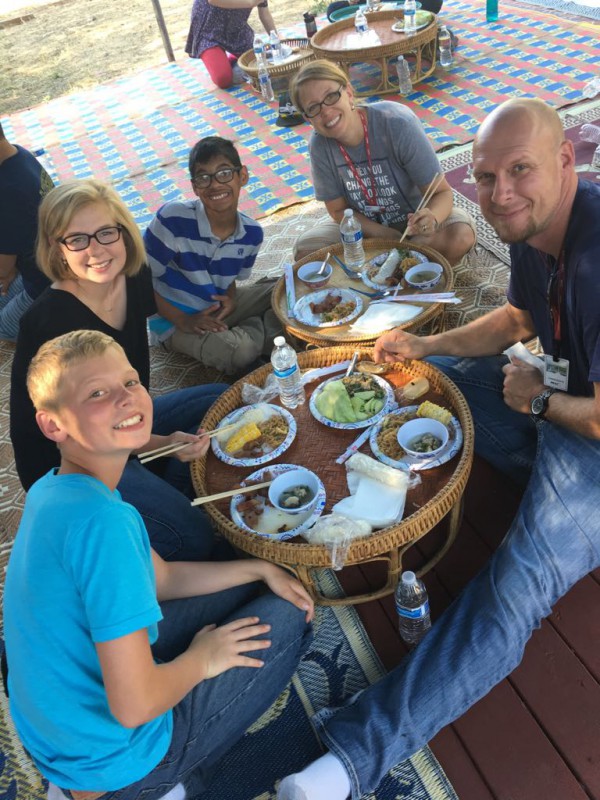 We had dinner visiting the Lao community here in Nampa and visited their Buddhist temple.  Such a beautiful people with beautiful stories.
What a week!  We have had almost every moment jam packed with information to take in and absorb.  We learned about the safety and quality of the program, our compensation, creating our wills and trusts if we don't have one, heard from the new President of the company, had a whole day seminar on crossing cultures, met with our candidate committee and found out what region we were assigned to, got our visa pictures taken for that country, ran chapel (check out our video on the facebook page if you haven't yet!), learned about the payroll system & benefits, went over our DISC assessment and learning how to communicate with those who have different personalities than us within the organization, packing and shipping our stuff overseas, met with the person who will coordinate our travel plans for us, had a short meeting explaining what our ministry partnership training will be like, approved our first prayer letter and prayer cards that will be mailed out next week, and had an evening of simulation called "The Call" which I won't go into detail about because I don't want to spoil it for the future MAF candidates.   Then last night we invited our Regional Director over for dinner along with another family that was assigned to Indonesia and drilled him with questions and found out we are going to be assigned to the province of Papua most likely (but of course it's always subject to change

)
So did that make you exhausted just reading it?!?!  Me too!  But it was awesome and so great to have so many of our questions answered!  So let me answer some of yours that you guys commented and texted to me…..
How are the kids doing?  The kids are doing AWESOME!  We live on a compound here and there are several other kids their age (very unusual but very ordained by God!).  There are teenagers in our apartments all day and night eating all our food and I LOVE it!  They are definitely missing their friends back home but I'm thankful that they have had a lot to do and are still having a fun summer.  They are excited about Indonesia and it was their first choice of places to go.  RJ is excited to be back in Asia and for all the different fruits they have.  Emma is excited to learn a new language and culture and to be able to drive a scooter.  Jackson is just excited about everything but mostly the airplanes

What is the primary language there?  It is Indonesian.  We will go to 9-11 months of language school in a separate area from where we will work as our first assignment.  The kids are deciding if they want to go to language school with us during that time or do traditional school.  They very much want to be a part of the life and culture there and are praying about the best choice for each of them although RJ will probably continue to homeschool with me because that has gone so well for him.
What will you (Angie) be doing for MAF?  I will be taking care of our kids.  MAF is very family focused and they care a great deal about how this will be affecting our kids and wants to make sure they have everything they need.  Once the kids are settled in at our assignment base after language school then RJ and I might find ways for us to be helpful around the hanger with maybe some of my finance skills or hosting visiting families or something like that.  I'm praying and trusting God to make clear when, if ever, I do anything besides caring for our kids.  I'm thankful that MAF is absolutely on board with us on that.  And let's just be honest, they really want Jack

Where exactly will you be living?  Language school is in the city of Salatiga in the province of Java and then we will *probably* be based in the city of Sentani in the province of Papua.  MAF provides us housing in each place.
What do you mean by raising support?  We have to be sponsored by individuals and churches for our income.  We are blessed by being a part of an organization that has their funds allocated in such a way that we all raise the same amount of support and there is a fund for pre-field missionaries like us that has been funded by missionaries that have gone before us so we can receive some pay while we are trying to raise our funds.  This is why Jack had to quit his job already because right away we need to start trying to get funds coming in to cover that.  Our last two weeks here will be training us on how to do that.
What can I do for you?  Pray!  Pray for anything that the Holy Spirit brings to our mind.  Encourage us by letting us know you're praying.  This can be a very lonely process as we are going through so much change.  I know we are busy and can't always have long phone conversations or reply with long emails but just knowing that you still think about us and are praying means so much.  Support us.  Both prayerfully and financially.  Our fundraising page should go live in the next few weeks and we would love to share our ministry with you.  Share the word about what we're doing.  Do you have a church who might let us come and speak or set up an info table?  Maybe start asking if that is a possibility to your mission board or pastor.  Or share your ideas about a fun activity we could host to gather people together to hear about MAF.  Our coach is going to help us with this but we are also going to need YOU!  The biggest thing is to start PRAYING and let the Holy Spirit speak to your heart.
Those are all the questions that I can remember for now.  If you thought of another one I would love to answer them for you in another post.  Sometimes you guys think of things that I haven't as well so please don't hesitate to ask and share, it can be helpful for us too.
Thank you to all of you who have commented, liked and shared about what God is doing in our lives.  Thank you for each and every message and text of support.  We truly, truly appreciate it!
Vision of MAF (and the Hamstras):  That every person on Earth will experience the love of Jesus Christ and respond to the Gospel.
Philippians 2:10-11 "that at the name of Jesus every knee should bow, in heaven and on Earth and under the Earth, and every tongue acknowledge that Jesus Christ is Lord, to the glory of God the Father."
John 3:16 "For God so loved the world that He gave His one and only Son that whoever believes in Him shall not perish but have eternal life."
Revelation 7:9 "After these things I looked, and behold, a great multitude which no one could count, from every nation and all tribes and peoples and tongues, standing before the throne and before the Lamb, clothed in white robes, and the palm branches were in their hands; and they cry in a loud voice, saying, 'Salvation belongs to our God who sits on the throne, and to the Lamb.'"