Partners
» by Angie on August 2, 2018 • General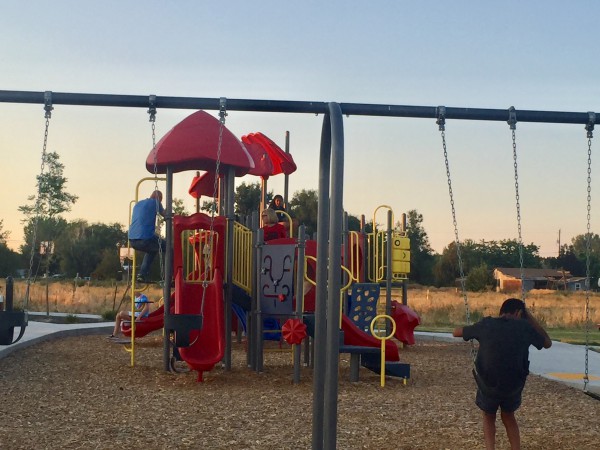 Pretty funny to watch a 6'4″ guy playing on the playground

Our days have been so busy and then nights are either packed with homework, housework or trying to spend time with the kids.
I give working moms SO MUCH CREDIT! Wow. I have never had to do this before and it is tough. I'm trying to be as organized as possible and meal plan and keep up with a load of laundry a day but it's exhausting.
I want to take a few minutes and give some credit to my amazing husband. We are serving together full time for the first time and he has been incredible. Without me even saying anything, he has been jumping in to help with housework and meals. He has always been super helpful with the kids but I always did the rest because I was home all day
I'm so lucky. I do see and understand that I am blessed beyond belief and I totally do not deserve him. I know and recognize that not all women have this so I get up every morning thanking God for the gift I have in a wonderful man.
Also, the way He is leading our family in this new adventure is amazing. His faith and confidence as he seeks the Lord are so inspiring.
We spent last week in some very intense security training and it was even more apparent how Jack will need to be our leader and protector. Of course it was all worst case scenario but still. And a quick high five to my three kids and their bravery to participate in some scary simulations. I'm so proud of our little Hamstra clan.
This week we have been working on our presentation that we will hopefully give at several churches, organizations and events to help spread the word about our ministry and seek prayer and financial partnerships to help us get to Indonesia as soon as possible. Jack hates public speaking but he has been a rock star the last few days as we have practiced in front of our classmates. Tomorrow we give our full 15 minutes presentation and it will be video taped. Yikes!
I'm so thankful to have this amazing partner to do life with and that he loves me even when I'm sad or crabby or unloveable.
I'm gonna head to bed but just wanted to give you guys this short update and let you know we are doing well and looking forward our journey back to Indiana the end of next week.
A few have asked so I wanted to share with you the link to our MAF fundraising page that I listed below. We are on staff now and need to start receiving monthly support commitments as soon as possible. If God has been stirring your heart towards our ministry we'd love to meet with you and tell you all about this adventure. Please check out our page and message us so we can set something up with you when we get back home. Also, please pray about asking your church or mission committee to let us come and share. We have several options for that as well.  Thank you to those of you that have already signed up.  We are so grateful!
Thank you most of all for your prayers. We SO appreciate them and can definitely feel them.
Email:  ahamstra@maf.org or jhamstra@maf.org