» by Angie on April 17, 2017 • General
Disclaimer: This post was written with RJ's permission and approval
Adoption is hard.  It is not God's plan A.  Adoption comes from hurt and suffering and sorrow.  God placed these kiddos in the tummy of a mommy and that is His plan A.  Adoption is beautiful and beauty comes from it for sure, but it is definitely not easy.  And older adopted kiddos who have memories and questions… well, let's just say it can get very interesting.
This blog has been revived over the past year and a half because of Laila's health and a way for me to get info out without having to answer many, many text messages on how she is doing.  It has been a way for others to cover our family in specific prayers.  But, it was created originally to continue a little blogspot blog that I created when the kids were younger as as we went through our journey of fostering which led to Laila's adoption, and then RJ's.
I've written many times about the struggles with adopting an older child (search the archives for more info) and a few weeks ago beauty and ashes were brought to me in the form of a cute little Indian boy with questions.  I'd like to share that with you today.
The adoption books and seminars and classes and webinars and on and on all tell you what to prepare for but real life hits and sometimes knocks you off your feet.  RJ and I have struggled to connect on and off for years.  Just when I think we are getting somewhere, one or both of us pushes away again.  You see, mom's get the brunt.  Mom's are there all day everyday (in our case).  Mom's aren't supposed to fail.  And so mom's are typically the ones that get the worst behavior out of their adopted kiddos.  All of those classes and seminars tell you that as well.  I host a dinner once a month for other mom's in similar situations as us and it rings true in some of those ladies too which makes me feel less insane, less like a failure.
RJ goes through ups and downs.  Switching schools was a great opportunity for him to learn to express his feelings of sadness, fear and disappointment in a healthy way.  He did great for a few months but the rough patch came in, as we knew it would.  Comfort levels come and because he stills has a hard time when things get comfortable, he started pushing.  He had several incidents that were just unlike his normal behavior (good patch behavior) so I knew something was up.  Here is where the days of uncertainty come in.  I never know how long this will last and very rarely does he express verbally why or what is going on in his head to make him act this way.  I'm not sure he even knows.
This time it finally came out one morning at breakfast.  The conversation I had thought about and tried to prepare for.  The conversation that has haunted me because I knew when it came I would have no real answers for him.  The conversation that broke my heart.
Quiet, somewhat angry RJ:  What is my birth mom's name?
Me:  Oh honey, I don't know.
RJ:  Where is she?
Me:  I'm not sure.
RJ:  Silence
Me:  You know that the police found you and they aren't sure what happened to you.  They tried to find her but couldn't.  Do you remember her?  Do you remember what she looks like?
RJ:  No
Me:  I bet she is beautiful.  I bet you look like her.
RJ:  Really?!?
Me:  Probably

RJ:  Why didn't she want me?
Me:  Oh honey, I'm not sure.  I'm so sorry I don't have an answer for you.  Can I tell you what I think?  From my research on Indian orphans… even though I'm not sure?
RJ:  OK
Me:  You were old enough that someone cared for you for a while.  You were not a baby when they found you.  Many people in India do not have enough money to buy food for their children.  My thought is that your mom loved you so much that she was willing to give you up so you could live.  She left you somewhere for people to find you who could help you get food and a home and live instead of…. dying.
RJ:  Will I ever see her.
Me:  We can pray that someone will share Jesus with her and then I hope that God will let you and I meet her together one day when we get to heaven.
RJ:  I would like to do that.  (returns to cereal and never mentions it again.)
You see, there is so much rolling around in that little mind that I never get to know.  There was another time a few years ago that he was in a really bad patch and he finally ended up telling me that in the orphanage they used to beat him with a broomstick.  So much I don't know.  He has the best memory of anyone I have ever met.  He remembers vivid details of things we've seen and done and that is such a cool thing….. until I remember what his first seven or eight years of his life were like.
This stuff is hard, you guys.  He and I both have a hard time.  I want him to be normal and expect him to be, but with his beginning and his   disability the cards are stacked against him most of the time.  I have to remember that.  I have to remember that his love language is quality time and I have to get past myself and give him that even when to me it seems like a reward for bad behavior.  This is NOT my go to parenting strategy.  God has turned my world upside down with this guy and He is making me into someone new.  I need to be better at this.  For him and for me.
Remember both of us in your prayers this week.  He struggles when he is scared about Laila and so do I.  For him, routine and normalcy are key to him feeling secure and things are anything but normal around here.  I struggle with guilt when I have to be away so much to care for her and his behavior reminds me of that.
Today we were gifted a day together because Laila and RJ didn't have school and since Laila doesn't feel well she has been sleeping a lot.  RJ is doing great because he is getting my attention and even helped me write this today.  He wanted me to share it with you.  I'm thankful for today and need to remember to take it one day at a time.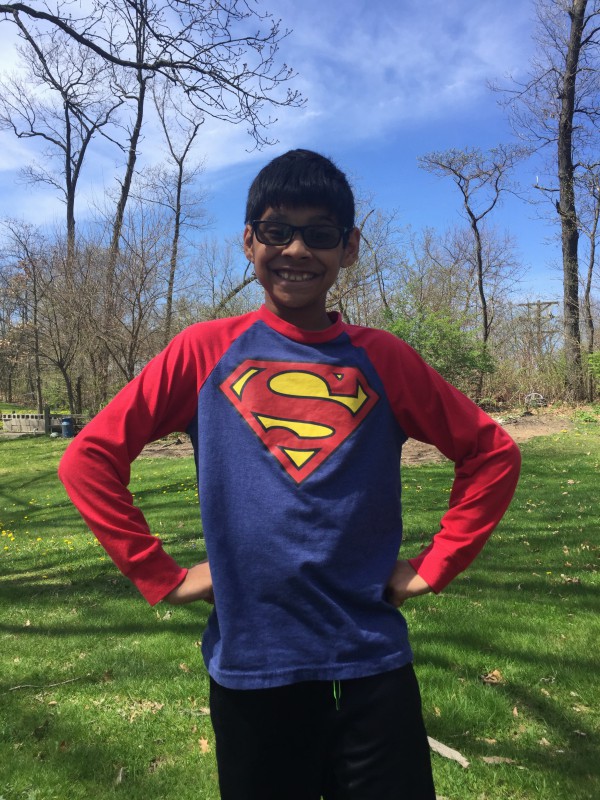 2 Corinthians 5:17  "Therefore, if anyone is in Christ, the new creation has come:  The old is gone, the new is here."