Reality
» by Angie on June 3, 2017 • General
We went away for the week to focus on the kids.  We went to Turkey Run State Park and hiked, kayaked, canoed and went horse back riding.  Those were all things that were difficult with Laila here.  It was beautiful and God definitely made Himself known through His creation and with different things He put in our paths.
But we are home now.  And Laila is still gone.  Jack sat on the couch trying to remember what it felt like to hold her.  I sat on her bedroom floor and cried.  And cried.
When I'm out and about it is better because it just feels like she is still at home with Tammy (our nurse) while we run around doing all the things with the other kids that need done.  Tammy would be with her and they would both be waiting for us with a smile and giggles when we came home.
Home is reality.  But reality doesn't seem real without her.
She seems like she is everywhere.  Pictures, medical equipment, her favorite chair to snuggle daddy, her med cabinet, her laundry….  She is everywhere but then she is no where.  I want her here.  I want to hear her laugh and smell her head & shoulders hair.
Reality isn't real.  She's everywhere but no where.
The world doesn't make sense without her.
Reality is her name on a box with both dates.  I hate it.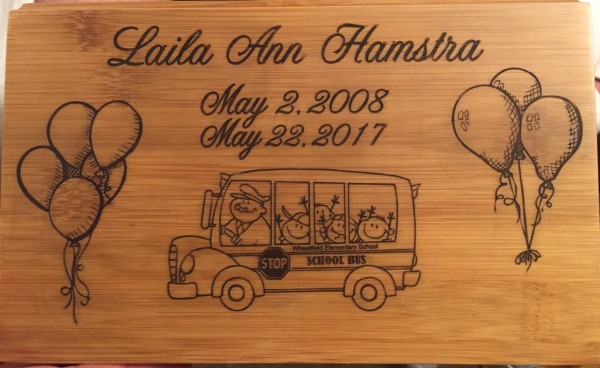 *warning – I'm drafting some posts about the days before she died. I need to for myself. My memory is horrible and I don't want to forget. As hard as it is, writing helps and being able to look back helps. I'll warn at the beginning of those posts for those that don't want to read about it.